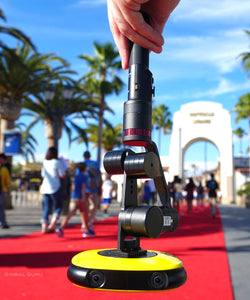 360Rumors.com shares NEW Guru 360 Gimbal Stabilizer and Kodak Orbit 360 footage!
  The world of 360 footage is always expanding with more 360 cameras being produced! Theres been a lot of excitement surrounding the release of the new Kodak Orbit 360 and our partner at 360Rumors.com has sample video with the assistance of Guru 360 Gimbal Stabilizer!
  Check out the results and take in the relaxing tropical location! 
  Guru 360 is a 3-axis gimbal stabilizer designed for lightweight 360 cameras under 250 grams like the Samsung Gear 360, Nikon Keymission 360, Ricoh Theta S, Kodak Orbit 360, 360Fly, Vuze, Garmin Virb360 and more! Guru 360 works to correct unwanted movement, rotation, roll, and horizon drift, and offers 'follow', 'lock', and 'head lock' filming modes. 
---