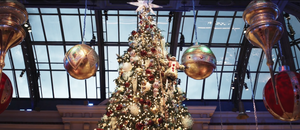 Bellagio Christmas 2016 Holiday Show with Beholder EC1 gimbal stabilizer from Garnica Media Group!
Watch this fantastic video from Jay Garnica of Garnica Media Group using the Beholder EC1. Enjoy the holiday spirt of the Bellagio Conservatory & Botanical Garden Holiday Show 2016 Christmas Theme.
Camera setup is a Beholder EC1 Camera Stabilizer with a (Information coming soon). Watch how, Jay does a great job of controlling camera movement. With the Beholder EC1 camera stabilizer, Jay is able to create some excellent dolly, slider, and jib shots without all that other camera gear. Also a small note, it takes practice and dedication to be this good with a camera stabilizer. Thank you to Jay and GMG for the awesome video.
Get the Best in Camera Stabilization with a Beholder EC1 or Zhiyun Crane, both stabilizers now include Two Set of Batteries. Order soon while supplies last. 
Follow Jay's upcoming videos at Garnica Media Group Youtube Channel. 
-OwlDolly
---