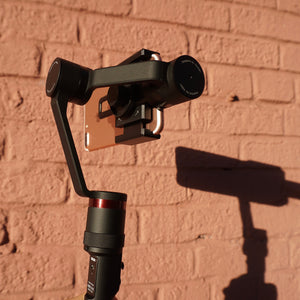 Creative Opportunities Galore With New MOZA Mini-C Smartphone Gyro Stabilizer
  Here you can see what the back of our new MOZA Mini-C Smartphone Stabilizer looks like! Now it's easy to make films with your 
iPhone 
or Android
! For $219, the MOZA Mini-C is the most affordable smartphone stabilizer available anywhere!
   MOZA Mini-C is a 3-axis handheld and wearable gimbal stabilizer designed to support most smartphones. Control your phone camera and the gimbal with the handgrip or MOZA app.  
  MOZA Mini-C features the ability to wirelessly connect the Mini-C to your phone or tablet via Bluetooth to launch the MOZA App. Tune and adjust the gimbal's parameters, choose among the operation modes, and control the gimbal movement via this mobile app. From accessing the configuration setting to creating time-lapse or panoramic videos, the MOZA Assistant App makes shooting professional-grade video easier than ever! 
---