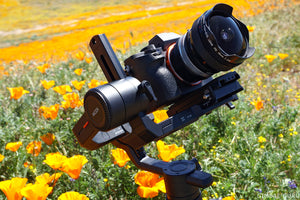 Exciting Inception Mode Footage With MOZA Air 2 and Performance by Charlie Parra del Riego
Enjoy our video shot with MOZA Air2 Camera Stabilizer, Sony A7SII, Lens 28mm Canon FD.  Starring famed rock guitarist Charlie Parra del Riego in the Gibson Showroom at 2019 NAMM show,  MOZA Air 2 Gimbal contributes cinematic effects with inception mode on top of smooth and steady footage.
TIP: To get the spinning shots, the gimbal is using inception mode. To perform this, double tap the speed button to start inception mode!
Powered by high-torque motors and a brand new FOC algorithm. The MOZA Air2 is capable of handling all DSLRs, mirrorless cameras, and small cinema cameras like RED Camera or Blackmagic. With a maximum payload of 9lbs (4.2kg) the MOZA Air2 can handle a large range of camera setups including long lenses, and camera accessories. Four rechargeable 18650 Li-ion batteries give the Air2 a maximum runtime of 16 hours. When the batteries do run low, the batteries are easily accessed from the side of the gimbal's handle. With a full charge the MOZA Air2 can film from daybreak to sunset.
4-Axis and 8 follow modes
The 4th axis of the MOZA Air2 is the MOZA Follow Focus offering lens focus and zoom control. From the MOZA Air2's handle simply rotate the smart wheel to make fine or quick adjustments to lens focus or zoom. With 8 follow modes like Inception Mode, FPV, Sport Gear Mode, Panorama and Tracking there is no limit to your creativity.
Inception Mode
Read about all of the new and useful features of MOZA Air 2! Order today for $599!
Enjoy!
-Guru
---