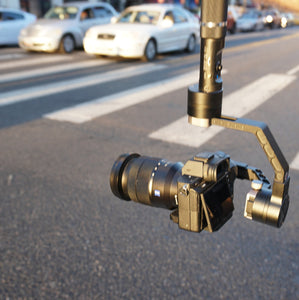 Explore the possibilities with a camera stabilizer that won't break the bank!
Filmmakers and photographers alike both agree: Zhiyun Crane is the most intuitive and easy to use camera stabilizer for making art. Spend more time creating, less time tinkering with machinery and settings! 
  Now available for $649.95, the Crane is packed full of premium features such as 5-way analog joystick built into the handle, more than 360° of rotation on all 3-axis, wireless remote with built in 5-way analog joystick, camera zoom and shutter control, 6 hours of battery life, and an app for iOS and Android OS.  The single handle camera stabilizer only weighs 2.8 pounds, 1080 grams with batteries. Incredibly, the lightweight stabilizer can lift up to 4 pounds, 1800 grams of camera.
  It makes for the perfect camera accessory to stow in your backpack and get to the next location to shoot your next masterpiece! 
Click here for the Zhiyun Crane Camera Stabilizer!
Enjoy!
-Guru
---