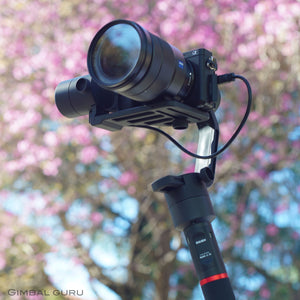 Focus on filming, not fussing, with MOZA Air gimbal stabilizer!
  MOZA Air is a lightweight (2.4 lbs/1.1kgs) gimbal stabilizer designed for mirrorless and DSLR cameras and has a maximum payload of 5.5lbs\2.5 kgs.  The Air works with the Sony a7 and a6000 line, Panasonic GHx, Blackmagic Cinema and Pocket, Canon's smaller DSLR's like the Rebels and 5D, and more. Basically, If the camera and lens combo comes in at or under 5.5lbs\2.5 kgs you're good to go!
 The Air rotates 360 degrees and can be controlled via a wireless thumb controller (sold separately) or the app.  Users can start or stop the camera recording from the handgrip control as well as adjust the gimbal movement and switch operation mode. 
  A useful feature is that the Air provides camera body and lens specific PID tuning meaning an operator can skip over the difficult learning curve of PID tuning and focus on filming. The MOZA Air kit includes a travel friendly stabilizer support with dual handgrips all for just $599. It will be available in 2 weeks so pre-order now! 
---