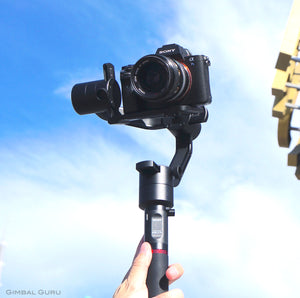 Get the new MOZA Assistant software update for Advance Motion Timelapse and Mimic Motion control for MOZA Air!
MOZA Update! The advanced motion timelapse and mimic motion control of MOZA Air are officially released!
Upgrade the firmware to the latest version:
MOZA Assistant software for Windows: http://www.gudsen.com/download/MOZA_Assistant_Win_Package.zip
MOZA Assistant software for Mac: 
http://www.gudsen.com/download/MOZA_Assistant_Mac_Package.zip

What's New?
1.Adds advanced motion timelapse;
2.Adds mimic motion control functionality;
Firmware upgrading is available on the official download page: http://www.gudsen.com/moza-air-downloads.html
Read all about the extensive features of Moza Air Camera Stabilizer and order today for $599! 
  MOZA Air is a lightweight (2.4 lbs/1.1kgs) gimbal stabilizer designed for all mirrorless and most DSLR cameras. Compared to other handheld stabilizers, MOZA Air offers the most payload (5.5lbs\2.5 kgs) for the best price!
  MOZA Air offers cinematic freedom that even Zhiyun Crane or Ronin-M can't. With the ability for full 360 barrel shots, MOZA Air lets a user rotate the camera 360 degrees on yaw, tilt, and roll axes making it free to capture 360-degree panoramic videos. Users can also create breathtaking motion timelapse videos effortlessly with MOZA Air and the Assistant App. 
  The MOZA Air can be held in a few different ways: upright and underslung. Switch freely between the two handheld modes or shoot from a variety of different angles. Four filming modes are available: yaw-follow, pitch-follow, yaw-pitch follow, and all-lock. No matter how complicated the shooting scenario, the MOZA Air has the right filming mode for the job!
  The handgrip houses three lithium batteries with 2000mAh capacity. These batteries can run the stabilizer up to 8 hours because of the power savings of encoders! 
  MOZA Air Gimbal Stabilizer includes useful Dual Handles to make it easy to get your perfect shot. With the Dual Handles attached, MOZA Air becomes not just a single handheld gimbal and adds to your smoothest shooting experience!
Enjoy!
-Guru
---