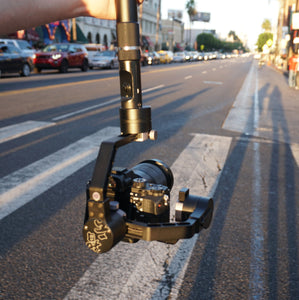 Happy Monday! Zhiyun Crane basic kit price drop! Now $649.95!
  The good news just doesn't stop coming here at Gimbal Guru! Our most loved product, Zhiyun Crane camera stabilizer, just received a price drop. Now available at just $649.95, the Crane makes a film maker's dreams so much easier to reach at this affordable price. 
  The single handle camera stabilizer 
only weighs 2.8 pounds, 1080 grams with batteries. Incredibly, the lightweight stabilizer can lift up to 4 pounds, 1800 grams of camera. The crane is packed full of premium features such as 5-way analog joystick built into the handle, more than 360° of rotation on all 3-axis, wireless remote with built in 5-way analog joystick, camera zoom and shutter control, 6 hours of battery life, and an app for iOS and Android OS.  
  ALL of this, for well under $1000, makes the Zhiyun Crane a unique and reliable commodity!
Click here for the Zhiyun Crane Camera Stabilizer!
-Guru
---