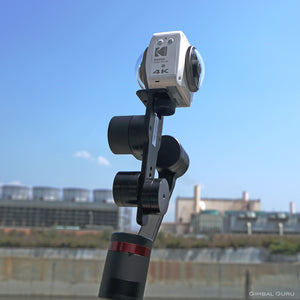 Guru 360 Gimbal Stabilizer Review and Demonstration by Immersiveshooter.com!
Immersive Shooter contributor Cameron Quon goes hands-on with the Moza Guru 360 gimbal to show off its different modes and features.
  ImmersiveShooter.com posted a great article with an accompanying video all about the perks of Guru 360 gimbal stabilizer and how to use it!  Both the informative video and article go through the features Guru 360 offers,  how to set it up, and how to use the different of modes! 
In an excerpt from the article, author Cameron Quon states:
"The Moza Guru 360º Camera Stabilizer is a great option for getting steady shots without the added hassle of post-production stabilization. 
It's small size makes for easy portability. It's also versatile, supporting a large number of cameras and even your smartphone. It's quick to set up with the threaded counterweights that avoids the need for extra tools.  I would definitely pull it out for shoots involving light action, like walking or a car ride."
  Guru 360° is a 3-axis gimbal just for 360 cameras! It features automatic inversion and three filming modes including follow mode for fluid motion, lock mode to lock in each axis, and head lock mode to lock the camera's lenses in a fixed direction. 
  The Guru 360°'s stability makes stitching for multiple cameras cleaner and reduces artifacting in 360° video. Create a more enjoyable experience by using the Guru 360° to correct unwanted movement, rotation, roll, and horizontal drift. 
Enjoy!
-Guru 
---