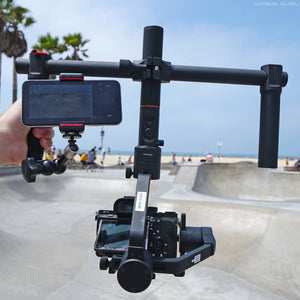 Happy New Year from Gimbal Guru!
We're so excited to jump into a new year with new creative opportunities! According to Instagram insights, this is our most popular picture from 2018! Everyone loves MOZA Aircross with Dual Handle Support!
Follow us on Instagram! @GimbalGuru 
 Enjoy our latest video featuring MOZA AirCross capturing the skills of young skateboarding prodigies Mac Houston and Magnus Magiar! Shot at Venice Beach Skate Park, we used MOZA AirCross Gimbal with a Sony A7SII, and iPhone X for monitoring. Lens used is a Canon FD 15mm.
 MOZA AirCross 3-Axis Gimbal is the answer to all of your mirrorless camera needs! With a maximum payload of 4lbs/1.8kg, the MOZA AirCross can support all mirrorless cameras and compact digital cameras. 
It works to save filmmakers time by offering a quick release plate that fits any quick release plate from 50.5mm to 55mm. This includes the Manfrotto and Arca plates, meaning that a user can easily switch their camera on and off the gimbal quickly without having to rebalance it every time. Spend more time filming and less time fussing!
  Moza AirCross amazingly can charge your camera while you shoot for endless battery life! It also features timelapse technology, mimic motion control from the MOZA thumb controller (sold separately,) 4 filming modes, auto-tuning, and MOZA App assistance. The MOZA App can be used to set parameter adjustments, sensor calibration, gimbal control, mode selection, firmware upgrading, and more!
Check out this full list of features!
Unlimited Power for Camera and Gimbal
Never change a battery again with the AirCross. Get unlimited camera power with the optional battery adapter for Sony Alpha or Canon cameras. Simply plug in the battery adapter and connect the adapter to the gimbal's 8V DC output.
The intelligent power supply can accept 12.6V DC IN by way of a port in to handgrip. Use a large cinema battery or a power supply for unlimited gimbal and camera power.
Compatible with Manfrotto and Arca Swiss Quick Release Systems
The MOZA AirCross offers a universal quick release system that supports both Manfrotto and Arca Swiss. With this system an operator can easily detach the camera from a tripod and quickly mount the camera to the gimbal using their quick release system of choice.
Mimic Motion, The MOZA Thumb Controller
The optional MOZA thumb controller utilizes accelerometers and Gyros. These built in sensors allow the remote/gimbal to mimic the movements of the operator. With the thumb controller you can control pan, tilt, roll, focus, and gimbal settings. The thumb controller gives an operator the combined power of the MOZA Assistant App along with physical controls over gimbal movement.
Create Amazing Motion Time-lapses
Capture incredible time-lapses of a sunrise, a construction crew assembling a building, and the stars crossing the night's sky. Set shutter control, duration, intervals, and the camera's path from the MOZA Assistant App.
Remote Control and Dual-operator Mode
The optional MOZA thumb controller allows a camera assistant to operate and control the gimbal from a distance of 50 meters. The camera assistant can control camera movement, lens focus, gimbal settings, and more.
Auto-Tuning for Optimal Performance 
By building on the in house designed DeepRed technology. The new Auto-tune feature can efficiently calculate the optimal parameters for the camera setup. The system can save up to 6 camera profiles. Say, "Good Bye" to annoying vibrations and frustrating oscillations.
Handgrip Control
The ergonomically designed handgrip fits perfectly into your palm for a more confident grip. From the handgrip directly control the camera and gimbal. Switch filming modes, control gimbal/camera movement, and start/stop recording all from the handgrip.
MOZA App on your Phone
The MOZA Assistant App works on both iOS and Android. From the MOZA Assistant App an operator can perform, parameter adjustment, sensor calibration, gimbal control, mode selection, firmware upgrading, and time-lapse.
Long-lasting Rechargeable Battery 
with 12hrs Battery Life
The three rechargeable 2000mAh batteries can power the stabilizer for up to 12 hours. The gimbal can be externally powered and the gimbal can charge the internal batteries when externally powered.
Filming Modes
With four built in filming modes the MOZA AirCross can handle any filming scenario.
The four filming modes are yaw-follow, yaw/pitch follow, all-lock mode, and roll-follow mode. The new roll-follow mode allows for thrilling Dutch Tilts.
One Button to Re-center
Want the gimbal return to its original starting position? Simply press the handgrip's power button three times and the gimbal will go back to its starting position.
Inverted Mode
The MOZA AirCross can be inverted while in operation or started inverted.
The Ultimate Gimbal Utility Belt 
The dual handle support is key to removing the raise/fall of walking shots, getting smoother framing, and greater control over camera movement. Also the dual handle support is designed for attaching accessories like a digital recorder, MOZA Wireless Remote, monitor, and more. Also the AirCross has a 1/4'' mount on the handgrip.
Enjoy!
-Guru
---