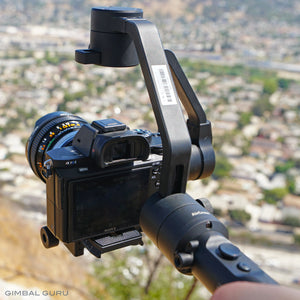 How To Use Mimic Motion Control With MOZA AirCross And The Wireless Controller!
MOZA Aircross is a great choice to grab and go to your next location thanks to its small, lightweight size! With a payload of 4lbs/1.8kg, it works with all mirrorless cameras and compact systems plus it features a 12 hour battery life! 
Check out this new video that goes through how to use the mimic motion control feature using the 
MOZA Wireless Controller
 for MOZA AirCross and MOZA Air!
  MOZA AirCross works to save filmmakers time by offering a quick release plate that fits any quick release plate from 50.5mm to 55mm. This includes the Manfrotto and Arca plates, meaning that a user can easily switch their camera on and off the gimbal quickly without having to rebalance it every time. Spend more time filming and less time fussing!
  The AirCross amazingly can charge your camera while you shoot for endless battery life! (Battery adapter sold seperately.) It also features timelapse technology, mimic motion control from the MOZA wireless thumb controller (sold separately,) 4 filming modes, auto-tuning, and MOZA App assistance. The MOZA App can be used to set parameter adjustments, sensor calibration, gimbal control, mode selection, firmware upgrading, and more!
At Gimbal Guru, we strive to provide excellent service and put extra care into every order for our customers. Before each shipment, we personally test every gimbal for efficiency and confirm that the product is updated to the latest software. We appreciate our customers and always love seeing the footage you create with the help of your new gimbal!
Enjoy!
-Guru
---