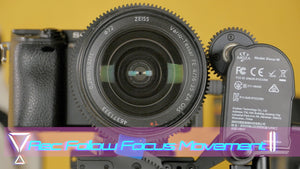 Huge MOZA Gimbal Sale, Record Focus Movements
Huge MOZA Gimbal Sale! Black Friday comes early this year. Get up to $50 off a MOZA Air 2 or AirCross 2. Save on the original AirCross and Mini Mi Smartphone Gimbals. Get instant savings on the Gimbal Bag from $55.95 to $40.95. Use the new Record Follow Focus Movement feature of the MOZA Air 2 to playback recorded follow focus pulls with the iFocus M. Available in the new MOZA Air 2 firmware update.
A review of firmware version V1.0.2. This firmware update for the MOZA Air 2 adds new features such as:
FPV Mode 

Inception

Mode 3.0

 Mimic Motion Control

Object Tracking

Motion Track Recording

Record and Repeat Follow Focus Movement

Quick Button Functions

Smart Wheel Modes
Have you updated your MOZA Air 2 to firmware version 1.0.2. Use the MOZA Master App to update your gimbal to the latest firmware and get access to all new features. If you don't know how to update your MOZA Air 2 follow this link to learn how Complete Guide to the MOZA Air 2.
Take your Slypod, Air 2/AirCross 2, and camera with the Gimbal Bag. A backpack that allows you to keep your gimbal stowed, and ready to film. Get the Gimbal Bag for $59.95. Have a large mirrorless camera or DSLR, the MOZA AirCross 2 is a gimbal that can support big cameras. The AirCross 2 has a payload capacity of 6 pounds. This means the gimbal can handle a decent sized lens and a large bodied mirrorless camera. 
---