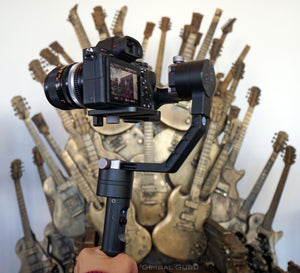 Incoming Zhiyun Crane Camera Stabilizer Shipment Coming Next Week
  With all the excitement surrounding Guru 360, let's not forget the tried and trusted Zhiyun Crane!
  The Crane is packed full of premium features such as 5-way analog joystick built into the handle, more than 360° of rotation on all 3-axes, wireless remote with built in 5-way analog joystick, camera zoom and shutter control, 6 hours of battery life, an app for iOS and Android OS, and 1/4" tripod mount on the bottom of the handle.
  A great feature of the Crane is bluetooth capabilities and CCI, Camera Control Interface. This interface allows a user to control from the handle of the Crane, camera shutter and zoom. Users can also wirelessly control the Crane with an amazing app developed by Zhiyun's engineers for iOS and Android OS.
  The App gives the user the ability to remotely control the stabilizer, change pan/tilt speed, and update firmware all wirelessly from a mobile device. A recent update to the app now allows for Face Tracking using a Smartphone. Zhiyun also offers a desktop version of the software for firmware updates. 
(Pictured  is Zhiyun Crane with Sony A7Sii Camera and Zeiss lens.)
-Guru
---