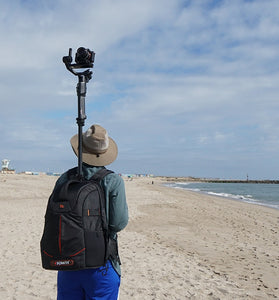 Limited Stock, Put a Gimbal and Camera on the Monopole Backpack
Put a gimbal and camera on the Monopole Backpack which has a payload capacity of 10lbs, and is the only backpack with a monopole. Limited stock available. With the Monopole Backpack raise your camera 3ft up for an elevated view. Don't miss out on the Gimbal Bag for $20 and take your gimbal, and camera with you. The Monopole Backpack pictured with MOZA Air 2, Sony A7SII, 360 Camera, Insta360pro 2, Action Camera. 
Creating a travel blog, pack your camera gear, and gimbal into the Gimbal Bag for $20. Go from location to location scouting for the next scene with the Gimbal Bag. Pictured the Gimbal Bag, the best backpack for your gimbal and camera.
Learn five tips for Vertigo Shots for the Mini MX with EMT Films. You can share cinematic short videos with a Smartphone gimbal like the MOZA Mini MX. Limited stock Gimbal Bag only, $20. Buy a Gimbal and Get a Video Chat Setup with one of our gurus. When you purchase a MOZA Air 2, MOZA AirCross 2, or MOZA AirCross.
---