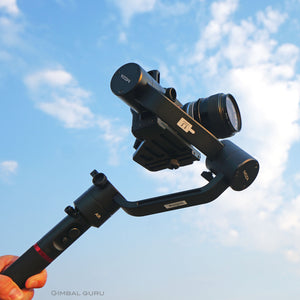 MOZA Air is gimbal for mirrorless and DSLR Cameras! Discount available!
  Gimbal Guru is offering 5% off select MOZA Air gimbals that have imperfect packaging. The gimbal is brand new and in flawless condition but some of the packing foam is torn.  Customers can add the MOZA Air to their cart then use code "PACKAGING" at checkout to receive a 5% discount.
  MOZA Air is a lightweight (2.4 lbs/1.1kgs) gimbal stabilizer designed for all mirrorless and most DSLR cameras.
With a maximum payload of 5.5 lbs(2.5 kgs),  
MOZA Air can support the SonyA7 and SonyA6000 line, SonyA99, Panasonic Gh5, Panasonic Gh4, Black Magic 4k, Canon Rebels, Canon 5D MarkIV, Canon 5d MarkIII, Canon 7d MarkII, Nikon D800, Fujifilm XT2, and many more. Basically, if the camera and lens combo comes in at or under 5.5lbs\2.5 kgs you're good to go!
  MOZA Air offers cinematic freedom that even Zhiyun Crane or Ronin-M can't. With the ability for full 360 barrel shots, MOZA Air lets a user rotate the camera 360 degrees on yaw, tilt, and roll axes making it free to capture 360-degree panoramic videos. Users can also create breathtaking motion timelapse videos effortlessly with MOZA Air and the Assistant App. 
---