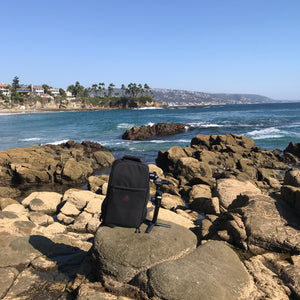 Only a Handful of Gimbal Bags Left $20
Only a handful of Gimbal Bags left, get the best backpack for your gimbal and camera for $20. Spend the last days of summer with your film gear at the beach. In stock the Monopole Backpack, the only backpack with a built in monopole. Order now, limited stock available. The Gimbal Bag pictured with MOZA AirCross 2, Day at the Beach, Cove, Tide Pool. 
Creating a travel blog, pack your camera gear, and gimbal into the Gimbal Bag for $20. Go from location to location scouting for the next scene with the Gimbal Bag. Pictured the Gimbal Bag, the best backpack for your gimbal and camera.
You can share cinematic short videos with a Smartphone gimbal like the MOZA Mini MX. Limited stock Gimbal Bag only, $20. Buy a Gimbal and Get a Video Chat Setup with one of our gurus. When you purchase a MOZA Air 2, MOZA AirCross 2, or MOZA AirCross.
---