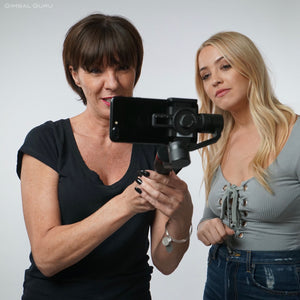 Selfies for days with the most affordable smartphone stabilizer, MOZA Mini-C!
  The MOZA Mini-C allows anyone to produce smooth film footage using just their smartphone.  MOZA Mini-C is the most affordable smartphone stabilizer! It is a 3-axis wearable/handheld gimbal designed to support most smartphones. 
  A fun feature of MOZA Mini-C Smartphone Stabilizer is selfie mode! Just like the gals in the photo are demonstrating, triple press on the joystick button to take a selfie.
Check out this video introduction! 
  The adjustable camera clamp can accommodate a variety of smartphones. The clamp is compatible with all iPhones and most Androids smartphones, including the iPhone 7\7 Pus, iPhone 6S\6S Plus, Samsung S7, Huawei P9, and Sony Z5. 
  Powerful motors with embedded encoders provide precision control, combined with advanced technology and built-in software that enables you to smartly control your camera and the gimbal with the handgrip or MOZA App.
Enjoy!
-Gimbal Guru 
---