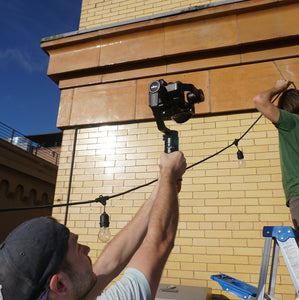 The wait is almost over! Beholder EC1 gyro stabilizer soon to be restocked!
  The new shipment of Beholder EC1 we have all been waiting for is almost here! These camera stabilizers go fast but if you order now you will receive one by the end of the month. 
  Beholder EC1
 weighs 2.2 pounds, can run for 20 hours, and operates on a whole new level of vibration free stability with 360 degrees of rotation on all three axes.
It has five built in modes, Lock Mode, Pan Follow Mode, Follow Mode, Follow all Axis Mode and Home (return to starting position). Also the EC1 can Point and Lock which means an operator can manually adjust the gimbal and the stabilizer will hold the position. 
  The technology used in the EC1 to help it maintain stability are encoders which are a motor with positional sensors along the motor's radius. This system allows the stabilizer to know the motor's exact position and to auto invert.
Pictured is the Beholder EC1, 
SonyA7Sii
 w 24-70 f2.8 g master.
---