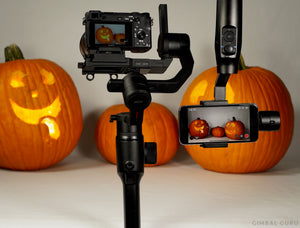 Time to get spooky, stable footage with MOZA Air2 Gimbal and MOZA Mini-Mi Smartphone Stabilizer!
👻
It's October and time to get spooky, stable footage with a MOZA gimbal for your professional mirrorless or DSLR camera or using only your smartphone!
👻
  Powered by high-torque motors and a brand new FOC algorithm, the MOZA Air2 is capable of handling all DSLRs, mirrorless cameras, and small cinema cameras like RED Camera or Blackmagic. With a maximum payload of 9lbs (4.2kg) the MOZA Air2 can handle a large range of camera setups including long lenses, and camera accessories. Four rechargeable 18650 Li-ion batteries give the Air2 a maximum runtime of 16 hours. When the batteries do run low, the batteries are easily accessed from the side of the gimbal's handle. With a full charge the MOZA Air2 can film from daybreak to sunset.
  MOZA Mini-Mi Smartphone Gimbal unlocks the power to create your own cinematic movies using just your smartphone! Button controls integrated into the gimbal's handle can control your smartphone camera's video functions as necessary within the Moza app. Shot too dark? Use the controls to raise exposure. You can even pull focus and set white balance as well as zoom. Additionally, the app can communic
ate with the gimbal to track selected subjects, keeping them within frame. If you prefer to manually operate the gimbal, different operating modes are at your disposal. The gimbal can either follow all your motions on all three axes, or lock one, two, or all the axes. MOZA Mini-Mi can achieve 360° rotation in roll axis without limits so you can go from a slow Dutch tilt to a quick pan!
---