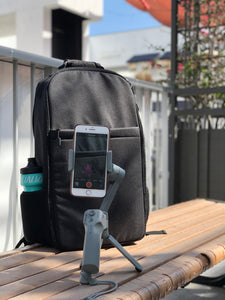 Urban Adventure Tour with the Gimbal Bag & MOZA Mini MX
Plenty of room left over in the Gimbal Bag for $20 to take along the MOZA Mini MX on an Urban Adventure with the rest of your camera gear. The Gimbal Bag can handle your gimbal, camera, and MOZA Mini MX along with two external water bottle pockets. Get your Gimbal Bag before stock runs out, this is a limited run production item. Featuring MOZA Mini MX, Gimbal Bag, iPhone, Smartphone, iPhone 8 Plus, Weller Court, Little Tokyo. 
Learn five tips for Vertigo Shots for the Mini MX with EMT Films. You can share cinematic short videos with a Smartphone gimbal like the MOZA Mini MX. Limited stock Gimbal Bag only, $20. Buy a Gimbal and Get a Video Chat Setup with one of our gurus. When you purchase a MOZA Air 2, MOZA AirCross 2, or MOZA AirCross.
Featured at CES 2020 in Insta360's booth the Monopole Backpack, the only backpack with a monopole. Raise a 360 camera an extra three feet above your shoulders with the Monopole Backpack. Now, your camera can explore the scene from an elevated perspective. The Monopole Backpack pictured with the Insta360pro 2. Made to order at GimbalGuru.
---