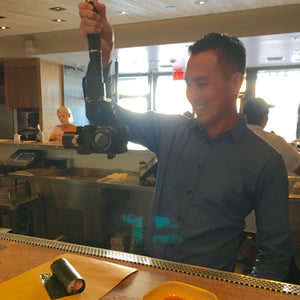 Want to Learn How to Setup a Camera Stabilizer with the Zhiyun Crane in 4K
Have a roll of a time with the Zhiyun Crane and #theoriginalhandroll Highly recommend having a bite there and chatting with the friendly staff :) Pictured Zhiyun Crane Camera Stabilizer with Sony A6300 and Sony kit lens 16-50. Check out our new c
omplete setup guide to the Zhiyun Crane Camera Stabilizer l
earn how to connect to the wireless bluetooth remote, smartphone app for iOS and Android
, learn how to balance, and more.
Discount code Pokémon Go trainer's tip when you catch a Zhiyun product with any Pokémon, and share the screenshot with #PokemonGoGimbalGuru. We caught a Paras with Zhiyun Crane and Sony A7SII with 16-35. Pokemon Go tip, if you press and hold the Pokéball, look for the status ring. Toss the Pokeball when the circle is small. Green means easy, yellow will put up some fight, and red will require incense.
Catch some coffee, Pokemon, and one of the best values in Camera Stabilization the Zhiyun Crane will full bluetooth support for iPhone and Android.
Wanna see what the sunset looks like in 4K running up and down through ocean waves and sandy beach. Check out the Gimbal Guru Youtube Channel for our new 4K videos. Featuring Zhiyun Crane Camera Stabilizer, A7SII with Zeiss 16-35.
Available and shipping out 5 days a week, the amazing Zhiyun Crane from Gimbal Guru for $749.99. Pictured Crane with Sony A7SII 16-35 Zeiss Lens. The Crane is one of the most advanced camera stabilizers on the market with built in encoders for industry leading stability.
---