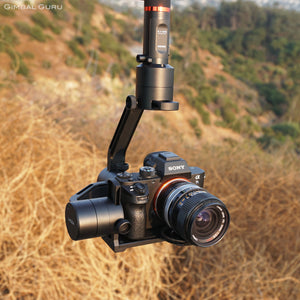 Zoom In On Your New Favorite Handheld Gimbal, MOZA Air Camera Stabilizer!
 MOZA Air is a lightweight (2.4 lbs/1.1kgs) gimbal stabilizer designed for mirrorless and DSLR cameras and has a maximum payload of 5.5lbs\2.5 kgs.  The Air works with the Sony a7 and a6000 line, Panasonic GHx, Blackmagic Cinema and Pocket, Canon's smaller DSLR's like the Rebels and 5D, and more. Basically, if the camera and lens combo comes in at or under 5.5lbs\2.5 kgs you're good to go! 
  It can rotate 360 degrees on yaw, tilt, and roll making it free to capture 360-degree panoramic videos from an immersive wide-angle perspective. The Air's 360 rotation can be controlled via a wireless thumb controller (sold separately) or the app. Users can start or stop the camera recording from the handgrip control as well as adjust the gimbal movement and switch operation mode. 
  A useful feature is that the Air provides camera body and lens specific PID tuning meaning an operator can skip over the difficult learning curve of PID tuning and focus on filming. 
  A ¼'' mount at the bottom of the handgrip allows the gimbal to be mounted to a tripod, slider, jib, crane or anything else with universal connection of ¼'' mount.
  The handgrip houses three lithium batteries with 2000mAh capacity, These batteries can run the stabilizer up to 8 hours because of the power savings of encoders! 
  The MOZA Air can be held in a few different ways: upright and underslung. Switch freely between the two handheld modes or shoot from a variety of different angles. Four filming modes are available: yaw-follow, pitch-follow, yaw-pitch follow, and all-lock. No matter how complicated the shooting scenario, the MOZA Air has the right filming mode for the job!
Enjoy!
-Guru
---