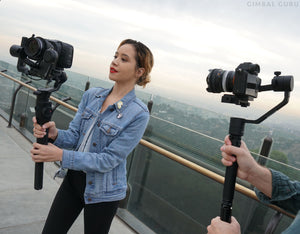 Black Friday IS HERE! Savings start NOW! 🚨 Ends 11/26!🚨
Black Friday deals and discounts are here!  
🚨

SALE STARTS 11/23! Ends 11/26!

🚨
Black Friday Opportunities include:
Pair your MOZA Air gimbal with the MOZA Wireless Controller for the ultimate creative control! The MOZA Wireless Controller allows a camera assistant to operate and control the gimbal from a distance of 50 meters. It gives an operator the combined power of the MOZA Assistant App along with physical controls over gimbal movement. With the thumb controller you can control camera movement, control pan, tilt, roll, focus, and gimbal settings.
  The Mimic mode uses the MOZA Wireless Controller's Gyro/ACC to communicate to the gimbal to mimic the movement of the operator holding the remote.
Order MOZA Air ($499) and receive complimentary Wireless Controller! $120 value! 
  MOZA Aircross is a great choice to grab and go to your next location thanks to its small, lightweight size! With a payload of 4lbs/1.8kg, it works with all mirrorless cameras and compact systems plus it features a 12 hour battery life! 
   The AirCross amazingly can charge your camera while you shoot for endless battery life! (Battery adapter sold seperately.) It also features timelapse technology, mimic motion control from the MOZA wireless thumb controller (sold separately,) 4 filming modes, auto-tuning, and MOZA App assistance. The MOZA App can be used to set parameter adjustments, sensor calibration, gimbal control, mode selection, firmware upgrading, and more!
   Powered by high-torque motors and a brand new FOC algorithm, the MOZA Air2 is capable of handling all DSLRs, mirrorless cameras, and small cinema cameras like RED Camera or Blackmagic. With a maximum payload of 9lbs (4.2kg) the MOZA Air2 can handle a large range of camera setups including long lenses, and camera accessories. Four rechargeable 18650 Li-ion batteries give the Air2 a maximum runtime of 16 hours. When the batteries do run low, the batteries are easily accessed from the side of the gimbal's handle. With a full charge the MOZA Air2 can film from daybreak to sunset.
🚨

SALE STARTS 11/23! Ends 11/26!

🚨
---