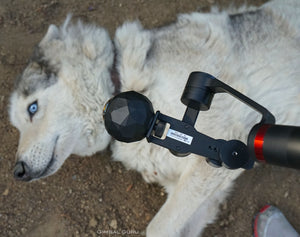 Guru 360° gimbal stabilizer, Buster the Dog, 360Fly Camera, and Guru 360° Setup Video!
The Guru 360° gimbal stabilizer does some investigating of Buster the dog who may or may not be guilty of nibbling on the 
360fly
 camera.  
Guru 360° works to correct unwanted movement, rotation, roll, and horizontal drift. Get your best 360 footage with Guru 360°!
  Check out this new video all about Guru 360!  This video summarizes the basic setup for the Guru 360 stabilizer. Learn the essentials like battery charging, selecting different filming modes, joystick functions, and balancing counterweights. 
-Guru
---