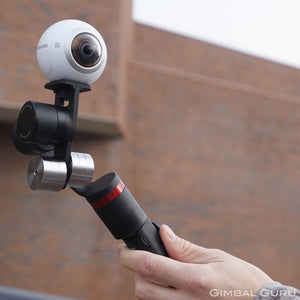 Guru 360° Gimbal Stabilizer for 360 Cameras new Intro Video! Plus, Kodak SP360 Update
  The Guru 360° is designed for the needs of 360 filmmakers. Create a more enjoyable experience by using the Guru 360° to correct unwanted movement, rotation, roll, and horizon drift. This stability makes stitching for multiple cameras cleaner and reduces artifacting in 360° video. Order Now Supplies are Limited!
  Enjoy this Video Introduction to the Guru 360°. 
  The first 50 pre-orders of the Guru 360° will be shipped out around mid March. An additional 50 units of the Guru 360° will ship a week later.
  Guru 360° will support the the Kodak SP360 dual camera setup. The adapter is currently under production. We expect to have some sample pictures and hopefully video available by the end of February. Get the most out of your 360° camera with the Guru 360°, the only stabilizer designed to stabilize 360° video. 
Guru 360° will be available for $349, but pre-order now for the discounted price of $299! Supplies are going fast! 
-Guru
---