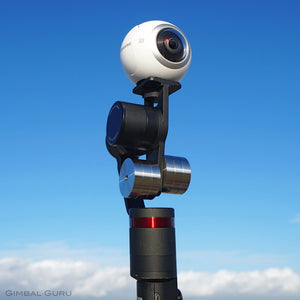 MOZA Assistant App Beta Version for Android now available for Guru 360, MOZA Air, and Mini-C!
  The beta version of MOZA Assistant App for Android is available now in Google Play Store! The app can be used with all MOZA related products included MOZA Air, Mini-c, and Guru 360 Gimbal Stabilizer. 
Download it on your phone: 
  Guru 360 is a 3-axis gimbal stabilizer designed for lightweight 360 cameras (250grams and under) like the Samsung Gear 360, Nikon Keymission 360, Ricoh Theta S, Kodak Orbit, 360Fly, Vuze, Garmin Virb360 and more! Guru 360 works to correct unwanted movement, rotation, roll, and horizon drift, and offers 'follow', 'lock', and 'head lock' filming modes. Get your best 360 footage with Guru 360! 
  Watch this video to learn the essentials all the essentials of Guru 360 like like battery charging, selecting different filming modes, joystick functions, and balancing counterweights. 
-Guru
---