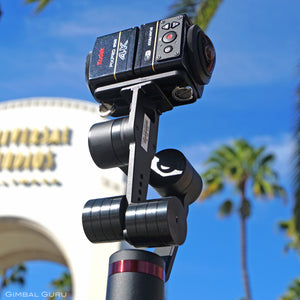 Ocean Adventure and Classic Car Show Video with Guru 360 Gimbal Stabilizer!
  Checkout this ocean voyage turned classic car show adventure thanks to Guru 360 Gimbal Stabilizer and Kodak PixPro Dual Camera 4k!
  Guru 360° is a 3-axis gimbal just for 360 cameras! It features automatic inversion and three filming modes including follow mode for fluid motion, lock mode to lock in each axis, and head lock mode to lock the camera's lenses in a fixed direction. 
  Unlike other bulky and expensive 360 stabilizers, Guru 360° is affordable and it's small size actually ensures unobstructed view while filming. 
  The Guru 360°'s stability makes stitching for multiple cameras cleaner and reduces artifacting in 360° video. Create a more enjoyable experience by using the Guru 360° to correct unwanted movement, rotation, roll, and horizontal drift. 
    The stabilizer is compatible with Samsung Gear 360, Nikon Keymission 360, Kodak SP360, Ricoh Theta S 360, Vuze, 360Fly, Kodak Orbit 360, Garbin Virb 360,  and more!  
Enjoy!
-Guru
---