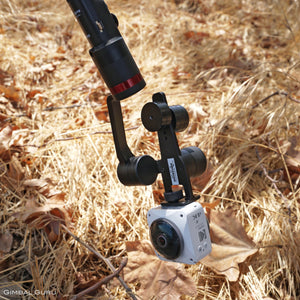 Tips and Tricks Video for stabilizing 360 footage with Guru 360 Gimbal Stabilizer!
  Guru 360° Gimbal Stabilizer is the key tool to pair with the Kodak Pixpro Orbit 360 Camera or other lightweight 360 cameras!  Guru 360° is designed just for 360 cameras and makes it possible to keep an even horizon and maintain a shake free view.
  It features automatic inversion and three filming modes including follow mode for fluid motion, lock mode to lock in each axis, and head lock mode to lock the camera's lenses in a fixed direction. 
  Unlike other bulky and expensive 360 stabilizers, Guru 360° is affordable and it's small size actually ensures unobstructed view while filming. 
  The Guru 360°'s stability makes stitching for multiple cameras cleaner and reduces artifacting in 360° video. Create a more enjoyable experience by using the Guru 360° to correct unwanted movement, rotation, roll, and horizontal drift. 
  Unique to Guru 360° is that the head and handle can be interchanged with other gimbal heads and handles in the Moza system. This enables you to switch to a smartphone or GoPro when paired with the corresponding gimbal head! 
    The stabilizer is compatible with cameras under 250 grams such as Samsung Gear 360, Nikon Keymission 360, Vuze, Fly360, Garmin Virb 360, Kodak SP360, Xiaomi MiJia 360, Ricoh Theta S 360, and more! 
  Learn all the essential tips and tricks on how to stabilize 360 / VR video with the Guru 360° Camera Stabilizer thanks to this video by CreatorUp! 
---