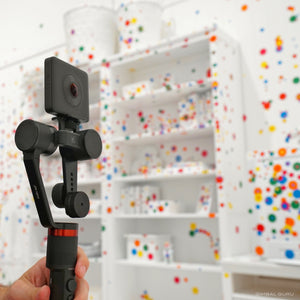 VIDEO: Gimbals, Gimbals, Gimbals including Guru 360 Gimbal Stabilizer!
Tom Antos
 shared this video review of an impressive amount of gimbals he's recently been testing and his set up for live streaming in his studio! Tune in around 56:40 to hear his thoughts about
Guru 360 Gimbal Stabilizer
and his compliments of 
The Gimbal Bag
we offer! 
The Gimbal Back is the perfect backpack to store and carry your handheld gimbal and camera!
  Inside the Gimbal Bag are two Velcro straps: one for the handle, and one for the camera lens. The dividers are removable. You can even remove all the dividers and just use it as a normal backpack. The straps are adjustable and removable as well. 
  Guru 360° Gimbal Stabilizer is the key tool to pair with the Kodak Orbit 360 Camera or other lightweight 360 cameras!  Guru 360° is designed just for 360 cameras and makes it possible to keep an even horizon and maintain a shake free view.
  It features automatic inversion and three filming modes including follow mode for fluid motion, lock mode to lock in each axis, and head lock mode to lock the camera's lenses in a fixed direction. 
    The stabilizer is compatible with cameras under 250 grams such as Samsung Gear 360, Nikon Keymission 360, Vuze, Fly360, Garmin Virb 360, Kodak SP360, Xiaomi MiJia  360, Ricoh Theta S 360, and more! 
 Enjoy!
-Guru
---