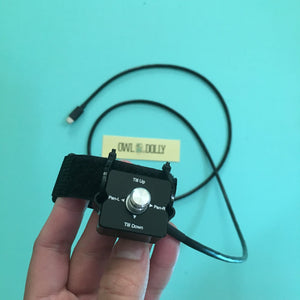 Beholder Remote Extras, Beholder DS1 and MS1 Stock
While supplies last get some extras with each Beholder Remote starting at $39.95. Included with each remote is four zip ties, and one velcro strap.
There are a few Beholder DS1 left to pre order, orders will be shipped by the 17th. MS1 7/15 left to pre-order, orders will ship out next week. Feel free to inquire about stock by emailing us at Sales@OwlDolly.com. Thank you.
Discover the best value in camera stabilization with a Beholder DS1 Camera Stabilizer for $699.95 or a Beholder MS1 Camera Stabilizer  $499.95. Order now and get an extra set of batteries. 
Want the best in camera stabilization, don't forget to get the best in support for your Beholder DS1 or MS1 from OwlDolly. From repairs to troubleshooting, OwlDolly offers %100 product support.
Demo the Beholder MS1 and DS1 camera stabilizer at NAB 2016. Booth number C2058DP, located in the Drone Pavilion in central hall. Use our guest code to get into NAB, LV4234.
-OwlDolly
---