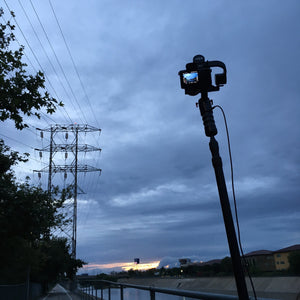 4K Video, DS1 Stock Return Today!
We really enjoy, the DS1 on a carbon fiber microphone boom pole. Remember to always check that the DS1 hasn't backed off the mount. Trust us, gravity is mean and will pull your rig back down to the ground, the first chance it gets. Pictured Beholder DS1 Camera Stabilizer featuring A7SII 16-35mm Sony FE Zeiss. Note the A7SII in AF-C mode would hunt for focus due to the subjects being too distant.
While supplies last get some extras with each Beholder Remote starting at $39.95. Included with each remote is four zip ties, and one velcro strap.
The DS1s will return late today, shipments could go out sameday. If not shipments will go out the following day. The MS1 is sold out, we expect to have more units in 1 week. Questions about stock, ask us at Sales@OwlDolly.com
Discover the best value in camera stabilization with a Beholder DS1 Camera Stabilizer for $699.95 or a Beholder MS1 Camera Stabilizer  $499.95. Order now and get an extra set of batteries. 
Looking for two guest houses, a mega mansion with an insane garage, and four different lawns mowed by a team of farm animals. This 4K video comes from Dragan Bozorovic and his Beholder DS1 featuring a Panasonic GH4, lens Olympus 7-14mm F2.8 PRO. Enjoy.
6855 Deer Springs Way, Las Vegas - The Ranch, Luxury Real Estate Video Tour in 4K from Dragan Bozorovic on Vimeo.
Interested in a DS1? Now available for rental in the Los Angeles area from an OwlDolly customer is a Beholder DS1 Camera Stabilizer. Follow these links to access the listings, ShareGrid, andCameraLends.
Want the best in camera stabilization, don't forget to get the best in support for your Beholder DS1 or MS1 from OwlDolly. From repairs to troubleshooting, OwlDolly offers %100 product support.
Demo the Beholder MS1 and DS1 camera stabilizer at NAB 2016. Booth number C2058DP, located in the Drone Pavilion in central hall. Use our guest code to get into NAB, LV4234.
-OwlDolly
---