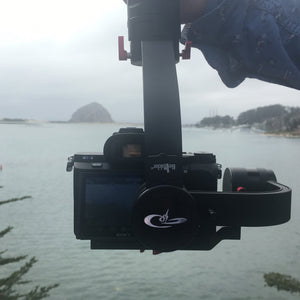 120 Frames of Ocean Spray, New Beholder Products, Contest
Gearing up for a summer road trip or just a vacation, don't forget to bring your camera stabilizer. The Beholder DS1 is a great travel companion that takes up little space, and is always happy to keep the camera level. Pictured Morro Bay Rock and Bay with the Sony A7SII 16-35mm FE Zeiss. 
The Beholder Support is in stock and available order today.
Discover the best value in camera stabilization with a Beholder DS1 Camera Stabilizer for $699.95 or a Beholder MS1 Camera Stabilizer  $499.95. Order now and get an extra set of batteries.
Want the best in camera stabilization, don't forget to get the best in support for your Beholder DS1 or MS1 from OwlDolly. From repairs to troubleshooting, OwlDolly offers %100 product support.
Recorded at 120 and slowed to 24 frames at certain points. Watch out for that ocean spray and really be aware of those rogue waves. Just when your back is turned for that awesome group photo, you won't even hear the wave coming till its soaked you, and the gear :( We weren't intending to "ocean test" the A7SII with 16-35 and the DS1, so far both are very happy after getting well soaked. Salt water is the worst in terms of corrosion. Anyways, have fun out there and enjoy amazing slow motion footage captured with the Beholder DS1 with Sony A7SII 16-35mm FE Zeiss. 
Shot notes:
Testing, recording at 120 frames. Zoomed in at 35mm. The stabilizer is being held inverted and is in lock mode. The operator is squatting, then rising up, and extending their arms up for a jib shot. 
Help OwlDolly find a most excellent name for the new Beholder Two Handle Support for DS1 and MS1.  
"Name it, to win it" contest rules:
One winner for each 

category, Best Video, and Best Name.

Each video and name entry will be published on the Daily Blog.

Contest starts May 2nd, and ends July 1st.

The winners will be announced June 3rd.
How to enter "Name it, to win it":

Create a video using a DS1/MS1 for Best Video category.
Include a description of your camera setup with a photo of DS1/MS1 setup with or without you. Feel free to include links to your business/creative sites for the daily blog.
Include a potential name for the new Beholder Two Handle Support for the DS1/MS1, Best Name category.
Email your entry to Sales@OwlDolly.com subject line "Name it, to win it".
 Thank you.
While supplies last get some extras with each Beholder Remote starting at $39.95. Included with each remote is four zip ties, and one velcro strap.  
-OwlDolly
---