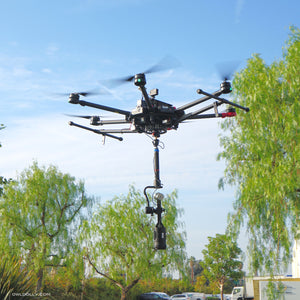 360Rumors.com: Stabilizing Insta360 Pro And Other 360 cameras with Moza Guru 360 Air
   Insta360 Pro Camera is a professional 360 camera but for the best results a user should pair it with a gimbal.  360Rumors.com just published an article about Insta360 Pro and other professional 360 cameras that benefit from a gimbal, specifically MOZA Guru 360 Air! 
360Rumors writes:
"The Insta360 Pro is heavy and has a somewhat high center of gravity (even if you remove the handle/stand), therefore a gimbal must be pretty powerful to be able to stabilize it.  The most affordable gimbal that is capable of stabilizing the Insta360 Pro is the Moza Guru 360 Air, which at $699 costs less than half of the next most affordable gimbal for Insta360 Pro.  Here is GimbalGuru's demo and tutorial for stabilizing the Insta360 Pro with the Guru 360 Air.
  With other professional 360 cameras, there is no gyro stabilization at all, so you really need to use a gimbal for moving shots, or else use time-consuming stabilization software.  As you can see from the playlist above, the Guru 360 Air can stabilize other popular professional 360 cameras as well, such as the GoPro Omni, Kandao Obsidian Go (I've also tested with Obsidian R and it will probably work with the Obsidian S as well), and the Z Cam S1 (and probably S1 Pro)."
  The Moza Guru 360° Air is a 3-axis handheld stabilizer designed for VR cameras. This unique gimbal allows a 360 camera to capture smooth 360 video. The Moza Guru 360° Air combines advanced stabilization technology, industry leading design, and intelligent software. It offers 360 filmmakers a tool to create immersive content for the VR world. 
With an impressive payload capacity of 3.3lbs, the Moza Guru 360° Air works with a huge range of 360 cameras including the popular Z CAM S1 Pro and Vuze.
Enjoy!
-Owldolly
---