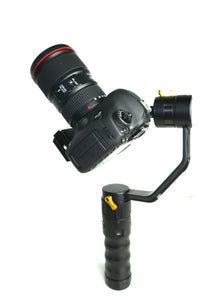 Amazing Customer Video, Beholder EC1 Shipping Update
Beholder EC1 shipping update. Sorry but we have not gotten shipment confirmation from the factory. We will be checking with the factory late today for updates as to expected shipment date. Hang in there, Thank you. Pictured Beholder EC1 Camera Stabilizer, Canon 5D Mark III 24-70mm lens. 
With a built in OLED status display, and 20 hours of battery life, the EC1 can offer professional event videographers a compact stabilizer that has incredible endurance. The EC1 can support up to 5 pounds of camera opening up an impressive range of camera body types, lens adapters, and lenses. The Beholder EC1 Camera Stabilizer is the next evolution in the Beholder stabilizer family. The quick release plate has been upgraded to the 577 quick release plate standard. Pictured with A6300, and Beholder EC1.  
Discover the best value in camera stabilization with a Beholder EC1 Camera Stabilizer for $900.00, or a Beholder DS1 for $699.95 or a Beholder MS1 for $499.95. Order now and get an extra set of batteries (Excluding the EC1 and MS1).
Pre-order Beholder EC1 Camera Stabilizer, only 8/30 units left to order. EC1 shipments will leave the factory soon. 
Want the best in camera stabilization, don't forget to get the best in support for your Beholder EC1, DS1 or MS1 from OwlDolly. From repairs to troubleshooting, OwlDolly offers %100 product support.
The Beholder EC1 comes with a travel case large enough to fit an A6300 with a kit lens.



Pictured, the Beholder Support with Quick Release for $99.95.
See why the Beholder DS1 is the best camera stabilizer for real estate videos. Cinematic Full Motion Walk-Through Video Tour of 208 Dalmation Ln, Las Vegas, NV 89107 in 4K with GH4. Enjoy! Video Credit Dragan Bozorovic.
Cinematic Full Motion Walk-Through Video Tour of 208 Dalmation Ln, Las Vegas, NV 89107 in 4K from Dragan Bozorovic on Vimeo.
-OwlDolly
---