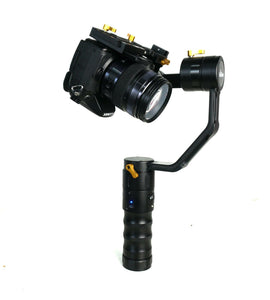 Beholder DS1 Customer Video, Getting Closer to getting the Beholder EC1
Beholder EC1 shipping update, the factory has yet to give us a confirmed shipping date but the factory feels confident Beholder EC1 Shipments will leave this week. If the factory ships this week, orders will arrive to shipping addresses by late July, international orders will arrive a few days later, hang in there. Thank you.
Pictured Beholder EC1 Camera Stabilizer, Lumix GH4 with kit lens.
With a built in OLED status display, and 20 hours of battery life, the EC1 can offer professional event videographers a compact stabilizer that has incredible endurance. The EC1 can support up to 5 pounds of camera opening up an impressive range of camera body types, lens adapters, and lenses. The Beholder EC1 Camera Stabilizer is the next evolution in the Beholder stabilizer family. The quick release plate has been upgraded to the 577 quick release plate standard. Pictured with A6300, and Beholder EC1.  
Discover the best value in camera stabilization with a Beholder EC1 Camera Stabilizer for $900.00, or a Beholder DS1 for $699.95 or a Beholder MS1 for $499.95. Order now and get an extra set of batteries (Excluding the EC1 and MS1).
Pre-order Beholder EC1 Camera Stabilizer, only 10/30 units left to order. EC1 shipments will leave the factory soon. 
Want the best in camera stabilization, don't forget to get the best in support for your Beholder EC1, DS1 or MS1 from OwlDolly. From repairs to troubleshooting, OwlDolly offers %100 product support.
The Beholder EC1 comes with a travel case large enough to fit an A6300 with a kit lens.



Pictured, the Beholder Support with Quick Release for $99.95.
Check out this epic action video featuring BMX. Captured with A7S with a 20mm lens, and Beholder DS1. Video Credit Tyler Palmer Filmmaker.
-OwlDolly
---