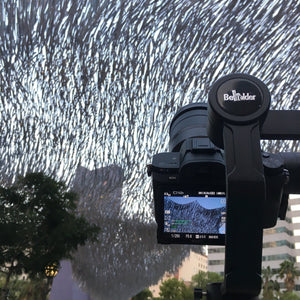 Beholder EC1 Camera Stabilizer Liquid Shard, Casey Neistat gets a Beholder DS1
We wanted to test out the new filming profiles of the Beholder EC1 Camera Stabilizer by capturing the movements of Liquid Shard in Pershing Square. New video of Beholder EC1 filming Downtown Los Angeles art scene coming soon. Pictured Beholder EC1 Camera Stabilizer with A7SII and 16-35 lens Zeiss.
Interested in changing the settings on the Beholder EC1 Camera Stabilizer? The factory is warning customers against modifying the settings due to the complexity of PID and the ease of creating settings that will destabilize the balance of the PID settings. Though if one wants to venture down that rabbit hole here are some signposts and or guidance to using simple BGC and PID tuning. OwlDolly will try our best to cover this topic. Each EC1 has a serial number and a factory PID profile assigned to that model, profiles of EC1's are not interchangeable. Below are screenshots of simple bgc, areas that are outlined in RED, should not at all be modified. Areas outlined in Green can be modified.
Hang in there and feel free to contact us about the status of your order. Check out the Beholder EC1 Camera Stabilizer Setup Video, the 4K Experience.  Pictured Sunset over DreamWorks, Beholder EC1 Camera Stabilizer with A7SII and 16-35 lens Zeiss. 
One of the many new great features of the Beholder EC1 is the two 3/8 studs built into the handle for accessory support.
With a built in OLED status display, and 20 hours of battery life, the EC1 can offer professional event videographers a compact stabilizer that has incredible endurance. The EC1 can support up to 5 pounds of camera opening up an impressive range of camera body types, lens adapters, and lenses. The Beholder EC1 Camera Stabilizer is the next evolution in the Beholder stabilizer family. The quick release plate has been upgraded to the 577 quick release plate standard. Pictured with A6300, and Beholder EC1.  
Discover the best value in camera stabilization with a Beholder EC1 Camera Stabilizer for $900.00, or a Beholder DS1 for $699.95 or a Beholder MS1 for $499.95. 
Want the best in camera stabilization, don't forget to get the best in support for your Beholder EC1, DS1 or MS1 from OwlDolly. From repairs to troubleshooting, OwlDolly offers %100 product support.
The Beholder EC1 comes with a travel case large enough to fit an A6300 with a kit lens.



Pictured, the Beholder Support with Quick Release for $99.95.
Watch the Beholder EC1 Camera Stabilizer Setup Video, the 4k Experience. Learn how to setup and balance camera and lens combinations of, A6300 with 16-50mm, A6300 with 16-35mm Zeiss, A6300 with FD lens adapter Canon FD 24mm, A7SII with 16-35mm Zeiss, A7SII with Aputure DEC lens adapter Canon 18-55mm, and Blackmagic Pocket Cinema Camera with 14-42mm. Learn about the four different camera movement profiles of the Beholder EC1 and more. Enjoy!
Casey Neistat gets a Beholder DS1 Camera Stabilizer. Watch his video to find out what he thinks of the stabilizer. Suggestion, holding the stabilizer inverted will allow your arm not to lock and act as a shock absorber. Producing smoother walking and running shots.
-OwlDolly
---