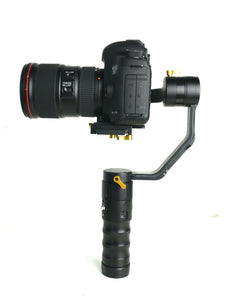 Beholder EC1 Photos, EC1 Updates, Beholder Sale
The EC1 is similar in weight and size to the Beholder DS1 but the EC1's tech operates on a whole new level of vibration free stability with more than 360 degrees of rotation. The Beholder EC1 is built around the next advancement in gyro sensor stabilization, giving the EC1 greater perception, and ability to adapt to change. Pictured with Canon 5D Mark III and 16-35mm lens. Check out our summer sale on the Beholder DS1 accessories.


Want the best in camera stabilization, don't forget to get the best in support for your Beholder EC1, DS1 or MS1 from OwlDolly. From repairs to troubleshooting, OwlDolly offers %100 product support.

Discover the best value in camera stabilization with a Beholder EC1 Camera Stabilizer for $900.00, or a Beholder DS1 for $699.95 or a Beholder MS1 for $499.95. Order now and get an extra set of batteries (Excluding the EC1).
The Beholder EC1 comes with a travel case large enough to fit an A6300 with a kit lens.



Stabilizer Sale:

Beholder DS1 Summer Deal, get a DS1, Beholder Remote (3ft or 6ft), MC-1 Battery Charger, extra Quick Release plate, for $749.95.




Pictured, the Beholder Support with Quick Release for $99.95.


-OwlDolly
---