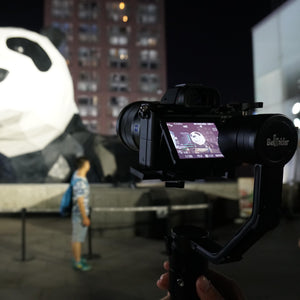 Beholder EC1 Shipment Countdown
The Beholder EC1 Camera Stabilizer is especially good at finding GIANT pandas. This panda is chilling without an issue just like the ease of using the EC1's new balancing system. Check out our setup video for visual info. Pictured Giant Panda and Beholder EC1 Camera Stabilizer with Sony A7SII and 16-35 F4 lens Zeiss.
Beholder EC1 stock with updated PID settings will be available and shipped out this month. The factory expects, the shipment with the updated EC1 to be released within 10 days. The factory is waiting on the final approval of the head engineer. If you have questions about your order please contact us with your order number at Sales@OwlDolly.com, Thank you.
Beholder EC1 PID Crash Course will be available later this week. Waiting on the final PID settings from the factory. Going over how to change PID settings, Calibration, and more.
Discover the best value in camera stabilization with a Beholder EC1 Camera Stabilizer for $900.00, or a Beholder DS1 for $699.95 or a Beholder MS1 for $499.95. 
Watch the Beholder EC1 Camera Stabilizer Setup Video, the 4k Experience. Learn how to setup and balance camera and lens combinations of, A6300 with 16-50mm, A6300 with 16-35mm Zeiss, A6300 with FD lens adapter Canon FD 24mm, A7SII with 16-35mm Zeiss, A7SII with Aputure DEC lens adapter Canon 18-55mm, and Blackmagic Pocket Cinema Camera with 14-42mm. Learn about the four different camera movement profiles of the Beholder EC1 and more. Enjoy!
 -OwlDolly
---