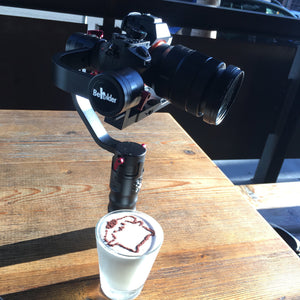 Dinner and a Beholder DS1, Beholder EC1 Update, DS1 User Video
Dinner and a Beholder DS1, dinner for two of course! Treat your camera stabilizer right. Pictured Beholder DS1 Camera Stabilizer with Sony A7SII and 16-35mm Zeiss E-Mount.
Discover the best value in camera stabilization with a Beholder EC1 Camera Stabilizer for $900.00, or a Beholder DS1 for $699.95 or a Beholder MS1 for $499.95. Order now and get an extra set of batteries (Excluding the EC1).
With a built in OLED status display, and 20 hours of battery life, the EC1 can offer professional event videographers a compact stabilizer that's perfect for blending in. The EC1 can support up to 5 pounds of camera opening up an impressive range of camera body types, lens adapters, and lenses. The Beholder EC1 Camera Stabilizer is the next evolution in the Beholder stabilizer family. The quick release plate has been upgraded to the 577 quick release plate standard. Pictured with GH4, and Beholder EC1.  
Pre-order Beholder EC1 Camera Stabilizer, only 15/30 units left to order. EC1 shipments will leave the factory soon. 
Want the best in camera stabilization, don't forget to get the best in support for your Beholder EC1, DS1 or MS1 from OwlDolly. From repairs to troubleshooting, OwlDolly offers %100 product support.
The Beholder EC1 comes with a travel case large enough to fit an A6300 with a kit lens.



Pictured, the Beholder Support with Quick Release for $99.95.
Awesome fashion video captured with an RX10 Mark II and Beholder DS1 Camera Stabilizer. Video Credit Andrea & Siria.
Look at me - Silvia Design from Andrea & Siria on Vimeo.
-OwlDolly
---