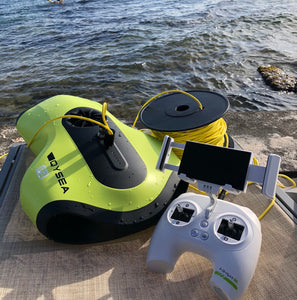 Dive Below The Surface And Explore With FiFish P3 Underwater Rover!
🐠 Come join FiFish P3 under the sea off the gulf of Mexico in this new video!🐠 We are diving down just off the shore's of Garrafón de Castilla. Using the Fifish P3 underwater robot, we get a rare chance to see the true colors of the sea. With Fifish's 4K camera we can peer below the water to observe tropical fish forage and interact with the environment! Enjoy!
 The FIFISH P3 Remotely Operated Underwater Vehicle from QYSEA is equipped with two, 2000-lumen lights, and a 1" CMOS sensor that captures 4K Video/20MP Photographs. This 1" sensor is similar to sensors found in compact digital cameras like Sony RX100 or RX10.  The FIFISH can capture video from as deep as 328ft. The FIFISH at 19 x 13 inches is a compact vehicle that can easily fit into a carryon suite case. Also the FIFISH's body is rugged enough to handle running into the bottom or bouncing off a wall or boat.
  Use the FIFISH for commercial videography/photography, inspection of marine equipment, underwater rescue, archaeological observation, diving instruction, or just go for an exciting underwater adventure.
  Observe the underwater world from a smartphone or small tablet with the icluded dual-joystick remote controller. The FIFISH's maximum speed is 3 knots (5ft per second). The battery life of the ROV is two hours per charge. The FIFISH streams live video at 1080p through your phone using a free app. The vehicle's camera has an ISO rating of 12800, an f/2.8 aperture, and a very wide 162° field of view. The controller streams the video signal along the ROV's 328ft tether via 2.4GHz Wi-Fi.
Camera

Ultra-wide 162° field of view.
Fast 2.8 aperture.
20MP 1" CMOS sensor.
Captures 4K video.
Focus Modes, fixed, macro, and normal.
ISO sensitivity 100-12800 for lower-light environments.
Eight lens elements in seven groups.
ROV

Maximum depth 328ft.
Tether: 328ft.
Three thrusters for top speed of 3 knots (5ft per second).
Automatic cruise, fixed depth & underwater suspension.
Two-speed mode.
Runtime: 2 hours.
Remote Controller

Control stick provides seamless control in six directions.
High and low speed modes.
Adjustable mount for smartphones and tablets up to 7.9inches.
Runtime: 5 hours.
Lighting

Two 2000-lumen LED lights.
Eight brightness levels.
Beam angle 120°.
Color temperature 5500k.
Learn more about QYSEA FIFISH P3 and order today at Owldolly.com!
Enjoy!
-Owldolly
---