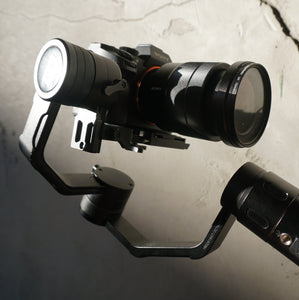 Dual Grip Stabilizer restock AND Quick Release Plate SALE!
  The wait is over! The Beholder Dual Grip Stabilizer Support with Quick Release System is restocked and ready to go! At the same time, Quick Release Plates for the DS1 and MS1 have gone on sale!
  Designed to accompany Beholder DS1 and Beholder MS1 stabilizers, the Beholder Dual Grip Stabilizer Support (or BDGSS for short) 
offers dual rubberized handgrips to help reduce arm strain by spreading the weight of the system across both arms.
   The Beholder DS1/MS1 is attached to the BDGSS by way of a 3/8

th

 mount. The BDGSS offers a quick release system which can be used for swiftly mounting a camera to the DS1/MS1 stabilizer or for quickly accessing the stabilizer from the BDGSS. The support system is made of durable aluminum and 16mm carbon fiber rods. 
  Beholder Dual Grip Stabilizer Support is lightweight, travel friendly, and assembles easily ensuring for stabile shooting. Get yours now for $99.95 and free shipping within the US! 
-OwlDolly
---