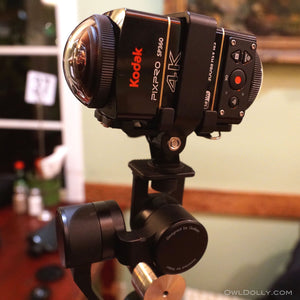 Explore the world of 360 video with Guru 360° gimbal stabilizer and Kodak PixPro SP360 camera!
Get the best results from your 360 camera with the new Guru 360°, the most affordable stabilizer for 360 video. Guru 360° gimbal stabilizer shines with the Kodak SP360 camera along with a variety of other compatible 360 cameras!
  The Guru 360° is designed for the needs of 360 filmmakers. Create a more enjoyable experience by using the Guru 360° to correct unwanted movement, rotation, roll, and horizon drift. This stability makes stitching for multiple cameras cleaner and reduces artifacting in 360° video. Order Now Supplies are Limited!
  Enjoy this Video Introduction to the Guru 360°. 
The first 50 pre-orders of the Guru 360° will be shipped out around mid March. An additional 50 units of the Guru 360° will ship a week later.
-OwlDolly
---