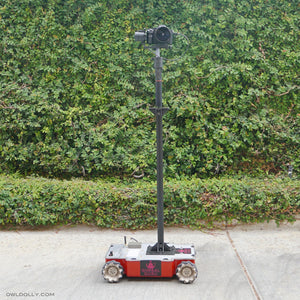 Gear Galore! CreatorUp video starring Guru 360 Rover, Onewheel+ XR, Entaniya HAL200 in VR180!
CreatorUp filmmaker Hugh Hou has published this video starring a wide array of new gear including Guru 360 Rover while Hugh zooms on a Onewheel+!
Hugh states: "Here is test footage of Google 180VR with custom built setup - 2x Panasonic LUMIX GH5 + Entaniya HAL200 fisheye lens without using the official Google certified VR180 cameras. 


In the video, we have the brand new Guru 360° Rover - Omni-directional Movement 360° Rover filming me in 60fps 6K stereo (with Insta360 Pro)."

Rover test footage is coming soon!
Guru 360 Rover's visible profile is unnoticeable to single lens camera and almost invisible to 360 cameras. Using a wireless controller, the rover can push or pull regardless of wheel direction, move laterally left or right, rotate 360 degrees in place, and also turn in an arch. To enable such amazing control over movement the Guru 360° Rover uses special mecanum wheels and motor control hardware/software.
Guru 360 Rover will be available in September!
Enjoy!
-Owldolly
---