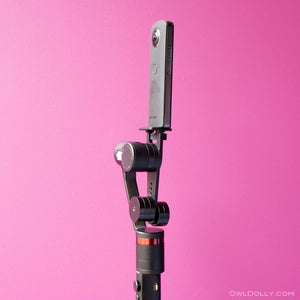 Guru 360° gimbal stabilizer, Ricoh Theta S 360 Camera, and Guru 360° Setup Video!
  Guru 360° is a camera stabilizer designed just for 360 cameras, like this Ricoh Theta S 360. It offers over 360 degrees of movement on all 3 axes without blocking the view of the camera and helps to create smooth, stable footage!  This innovative gimbal works to correct unwanted movement, rotation, roll, horizontal drift and reduces artifacting in 360° video!
  Check out the new video all about Guru 360°! This video summarizes the basic setup for the Guru 360° stabilizer! Learn the essentials like battery charging, selecting different filming modes, joystick functions, and balancing counterweights. 
-OwlDolly
---