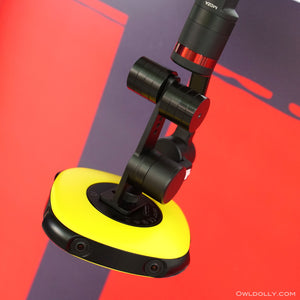 IFA Innovation Slam Award Winners, Vuze, Feature Guru 360 Gimbal Stabilizer!
  OwlDolly is a fan and supporter of Vuze 360 VR Cameras and vice versa! We love using Vuze cameras with our Guru 360 Gimbal Stabilizer and at the recent IFA 2017 Global Markets Convention our gimbal was featured at Vuze's booth!  
Congratulations to Vuze for their win of the IFA Innovation Slam Award!
  (Photo features MOZA Partner Allan posing with Vuze Cameras and Guru 360 gimbal!)
(Photo of Yahav from Vuze and Allan from MOZA!) 
Thank you to Yahav from Vuze for sharing your photos from the convention with us!  
Order a Guru 360 Gimbal Stabilizer today for $299!
Enjoy!
-OwlDolly
---