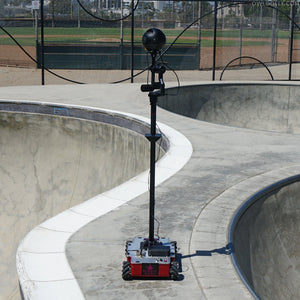 ImmersiveShooter.com In Depth Guru 360 Rover Exploration and Interview!
ImmersiveShooter.com  published this great article that delves into details about Guru 360 Rover, followed by an exclusive interview with Devlin Murphy about the rover, and test footage!  
Robert Hernandez states about Guru 360 Rover's features that "the most impressive being its unique wheels which allow you to move the dolly in any direction at any time. You aren't limited to forward and backward; you can also go side to side." 
He goes on to point out that, "Another important and essential feature of this rover is the controller. This isn't a small kid RC controller or an app you put onto a tablet. This is a real device that feels natural and good in your hands, allowing you to guide it along the path you want to go."
Click this link to jump to the whole article and read the interview with Devlin Murphy! 
After reading the article, check out Robert Hernandez's test videos of gliding around the USC Campus on the Guru 360 Rover while shooting from a ZCam S1 Camera and Guru 360 Air Gimbal Stabilizer. Thank you to Immersive Shooter Editor-at-Large and USC Professor Robert Hernandez for giving the Guru 360 Rover a test spin!  
 Make sure to subscribe to ImmersiveShooter's YouTube page to always be up to date with latest in VR and 360 technology! Thank you Robert!
  Guru 360 Rover's visible profile is unnoticeable to single lens camera and almost invisible to 360 cameras. Using a wireless controller, the rover can push or pull regardless of wheel direction, move laterally left or right, rotate 360 degrees in place, and also turn in an arch. To enable suchImmersiveShooter.com In Depth Guru 360 Rover Exploration and Interview! amazing control over movement the Guru 360° Rover uses special mecanum wheels and motor control hardware/software.
Guru 360 Rover is made to order and takes one month to produce.
Enjoy!
-Owldolly
---