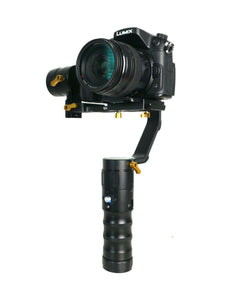 Limited Beholder EC1 Stock, EC1 Features, Beholder DS1 Now Available at The Camera Store
A stabilizer with encoders uses a field-oriented control strategy which means the motors can produce an even torque curve and very efficiently consume power. The EC1 can run for an incredible 20 hours on a single charge of the three 18650 lipo batteries. The stabilizer is tool-less with a four axes adjustable gimbal. The EC1 can support up to 5 pounds of camera opening up an impressive range of camera body types, lens adapters, and lenses. Pictured with Panasonic Lumix GH4, and Beholder EC1.  
Pre-order Beholder EC1 Camera Stabilizer, only 24/30 units left to order.
You can now find the Beholder DS1 Camera Stabilizer at The Camera Store, located in Calgary, Canada. Customers that purchase product from OwlDolly authorized dealers are backed by OwlDolly's customer support and warranty repair. OwlDolly is very excited to be working together with The Camera Store. We feel The Camera Store offers excellent custom service, knowledgeable tech support, and best of all a friendly staff. Also do not miss out on their in house produced YouTube Channel TCS TV, informative content matched with honest views. 
Want the best in camera stabilization, don't forget to get the best in support for your Beholder EC1, DS1 or MS1 from OwlDolly. From repairs to troubleshooting, OwlDolly offers %100 product support.

Discover the best value in camera stabilization with a Beholder EC1 Camera Stabilizer for $900.00, or a Beholder DS1 for $699.95 or a Beholder MS1 for $499.95. Order now and get an extra set of batteries (Excluding the EC1).
The Beholder EC1 comes with a travel case large enough to fit an A6300 with a kit lens.



Pictured, the Beholder Support with Quick Release for $99.95.
Beholder EC1 Camera Stabilizer setup videos featuring Sony A7SII 24-70mm, GH4.
-OwlDolly
---