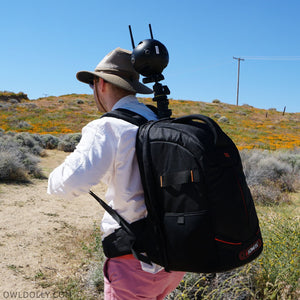 More New Product Introductions! Meet The Monopole Backpack!
Welcome the Monopole Backpack to our Gimbal Guru family!
  The Monopole Backpack is a backpack with a built in 39 inch adjustable monopole that allows an operator to position their camera an extra 3 feet above their shoulders. For example with the monopole fully extended and a  5'10''  camera operator would position the camera 9 feet above the ground.
  The Monopole backpack can support up to 15 pounds and has an estimated internal volume of 1500-1600 cubic inches. Easily attach a gimbal, 360 Camera, or other cameras and accessories to the top of the monopole by way of the 3/8th" mount.
  With the Monopole Backpack your camera can explore the scene from an elevated perspective!
Check out more photos and info then Pre-order today for $199!
-Guru
---