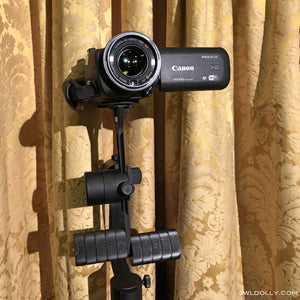 More than just a 360 Gimbal, Guru 360 Air Pairs with Canon Vixia Hf G30 Camcorder!
Getting creative with the versatile Guru 360° Air Gimbal by pairing it with a Canon Vixia Hf G30!
  Camcorders like this cannot typically fit on common gimbals due to their depth and length but thanks to Guru 360° Air's unique shape, its a great match! Guru 360° Air's adjustable counterweights enable the gimbal to work with cameras of varying dimensions and weight. Whether the camera is lightweight or a heavy professional camera, Guru 360° Air can stabilize the best 360 cameras. The bottom of the handgrip features 1/4" and 3/8" mounts for attachments like a drone.
  Guru 360° Air is a 3-axis handheld stabilizer designed for professional 360 cameras! This unique gimbal allows a 360 camera to capture smooth 360 video with advanced stabilization technology, industry leading design, and intelligent software such as the MOZA Assistant App. 
  While it only weighs 2.4 lbs (without counterweights), it features an impressive payload capacity of 3.3lbs! The Moza Guru 360° Air works with a huge range of 360 cameras including the popular Z CAM S1 Pro, Insta 360 Pro, Kandao Obsidian Go 360, GoPro Omni 360, and Vuze. Attach it to your 360 camera and drones for endless adventures!
Enjoy!
-Owldolly
---