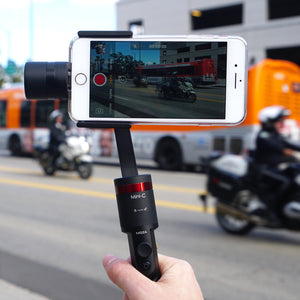 Moza Mini-C Smartphone Stabilizer for the out and about documentarian and filmmakers!
Using a MOZA Mini-C smartphone stabilizer to document the passing police! With a Moza Mini-C, you can start making your own documentaries or professional styled films now!
  Wirelessly connect the Mini-C to your phone or tablet via Bluetooth. The MOZA app enables you to smartly control your Smartphone camera from the handgrip. Launch the app to adjust the gimbal's parameters, choose among the filming modes, and control the gimbal movement. From creating time-lapse, panoramic videos, the MOZA Assistant App makes shooting a professional video easier than ever!
   With Moza Mini-C, the user can live stream effortlessly. Hold the gimbal horizontally to let it automatically rotate to the Live Stream Portrait Mode. Now you can capture a shake free live streaming. Tilt the Mini-C to the right/left by 45 degrees and the roll motor will automatically rotate 90 degrees. 
---